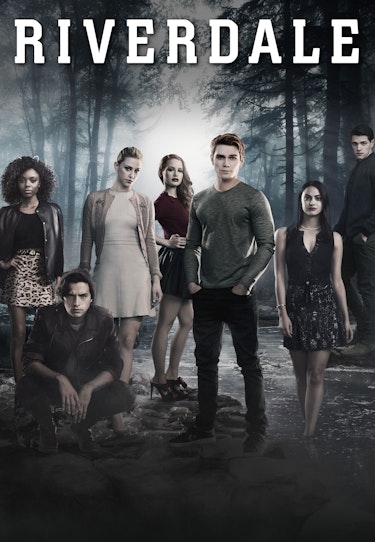 Amerikansk ungdomsserie baserad på karaktärerna från serietidningen Archie (som på svenska gick under namnet Acke). Vi möter Archie, Betty, Veronica, Jughead och de andra ungdomarna i den lilla staden Riverdale, en stad som döljer mörka hemligheter under den perfekta ytan.
Chapter One: The River's Edge
As a new school year begins, the town of Riverdale is reeling from the recent, tragic death of high school golden boy Jason Blossom — and nothing feels the same.
Chapter Two: A Touch of Evil
As new details of Jason's death begin to emerge, Archie pleads with Miss Grundy to come forward with what they heard at Sweetwater River. Betty makes an effort to mend her friendship with Archie but takes a different stance with Veronica who is trying to make up for her actions. With rumors around her brother's death running rampant, Cheryl deals with the pressure in true Queen Bee fashion, while tensions boil over when Jughead stumbles upon a secret Archie was hoping to keep hidden. Finally, plans for the annual fall pep rally move forward with a performance by Josie and the Pussycats and a special appearance by Mayor McCoy.
Chapter Three: Body Double
After new information surrounding Jason's death comes to light, Cheryl finds herself under a cloud of suspicion and forced to come clean about the last time she saw her brother. Meanwhile, Archie makes a tough decision that puts a major strain on his relationship with Miss Grundy. Elsewhere, Betty decides to revive the school newspaper and asks for Jughead's help in investigating Jason's death, while Veronica and Ethel work on exposing some of Riverdale High's football players after rumors of a "shame book" begin to circulate. Finally, after getting grounded by his dad Fred, Archie must figure out a way to make it to the Taste of Riverdale event where Josie and the Pussycats will be performing a song he helped write.
Chapter Four: The Last Picture Show
When Jughead learns that an anonymous buyer has plans to tear down the local drive-in, he fights desperately to keep it open. Betty finds her friendship with Archie on the line after stumbling upon some startling information she's uncovered about Miss Grundy's past. Elsewhere, Veronica confronts her mother Hermoine about a suspicious meeting she witnessed between her mother and a shady Southside Serpent. Finally, after uncovering Betty's diary, Alice finds the perfect opportunity to destroy Archie's golden boy image.
Chapter Five: Heart of Darkness
With Jason's funeral around the corner, the Blossom family moves forward with last minute preparations - and a secret agenda. Meanwhile, Archie's attempt to refocus his energy on football comes to a halt when an opportunity to work with a new music mentor presents itself. Betty dives deeper into her investigation of Jason's death and unearths some dark revelations about her family. Elsewhere, after uncovering secrets about her own family, Veronica forms an unlikely friendship with Cheryl, who is having a tougher time with Jason's impending funeral than she lets on. Finally, Hermoine turns to Fred for help after receiving a cryptic message from the Southside Serpents.
Chapter Six: Faster, Pussycats! Kill! Kill!
With Riverdale High's annual variety show around the corner, Valerie's efforts to help Archie prepare for his big performance lead to some major fallout between her and Josie. Meanwhile, Betty and Jughead's investigation into Jason's death brings them to a home for troubled youth and face-to-face with Polly. Just as her relationship with her mother was on the upswing, an unexpected betrayal sends Veronica spiraling, while Josie deals with her own pressures at home after her overbearing father returns for her performance at the variety show. Finally, Hermoine's first day at Andrew's Construction finds her and Fred growing closer.
Chapter Seven: In a Lonely Place
When a major piece of evidence is mysteriously destroyed, new rumors begin to swirl as to who was really behind Jason's murder. Tensions build when Jughead's father returns to the fray and it's revealed that he and Fred have some unresolved issues between them. Meanwhile, Veronica takes matters into her own hands after her fight with Hermione. Cheryl approaches Betty with an unexpected proposal that leaves Betty torn.
Chapter Eight: The Outsiders
As Fred and his crew are about to start construction he loses his crew, which could put his livelihood in jeopardy. Wanting to help his dad, Archie and his friends pitch in to help but after one of them is attacked, the gang comes up with a plan that lands them in Southside Serpent territory. With Jughead's secret revealed, he is worried about how his friends will react. Meanwhile, Veronica and Betty suggest throwing Polly a baby shower to make her feel better, but Polly is hesitant knowing how everyone feels.
Chapter Nine: La Grande Illusion
Archie reluctantly agrees to escort Cheryl to her family's official start of maple syrup tapping because he gets an offer that could help his future. Archie starts to become skeptical of the real reason the Blossoms are so eager to help him, however he gets some helpful information for Betty about her sister. Veronica is trying to be nice and unbeknownst to her, befriends a classmate that her father's illegal doings has hurt. Hermione is conflicted about telling Fred the truth. Meanwhile, Alice is ready to get revenge on the Blossoms once and for all with the help of her two daughters.
Chapter Ten: The Lost Weekend
When Fred decides to finalize the divorce with Archie's mother Mary, Archie hides his true feelings. Archie tries to win Valerie back with a romantic evening, however, Betty hijacks his plans when she decides to throw Jughead a surprise birthday party. Once Cheryl learns of the party, she decides to make it interesting and things quickly get out of control. Meanwhile, Veronica contemplates whether she should participate in the deposition to help get her Dad released.
Chapter Eleven: To Riverdale and Back Again
Betty is slammed overseeing Homecoming and Reunion weekend, but Alice wants her to help with the Jason Blossom investigation. Alice turns to Archie and Veronica for help, but when Betty discovers they are working with her mom, she is not happy. After seeing his father FP start to clean up his act, Jughead wonders if it's the right time to give him another chance. Cheryl and Polly have both decided to go to Homecoming in Jason's honor, until a revelation waylays their plans. Meanwhile, Fred and Mary attend the Homecoming dance, leaving Fred to possibly reconsider the divorce.
Chapter Twelve: Anatomy of a Murder
Archie and Veronica are shocked to learn of the arrest but know they need to come clean to their parents about what they uncovered. Still hurt by the betrayal of his friends and torn over who to trust, Jughead reluctantly joins them in a quest for truth. Meanwhile, Cheryl confronts her mom about why she treats her so much worse than she ever did with Jason.
Chapter Thirteen: The Sweet Hereafter
Archie and Veronica continue to grow closer. Betty is tired of her family acting as if nothing has happened and confronts her mother. Jughead finds himself in an unexpected situation, leaving Archie and the gang scrambling. Hermione makes Fred an offer that seems too good to be true. Meanwhile, the truth about Blossoms' family business is revealed leaving Cheryl to take matters into her own hands.